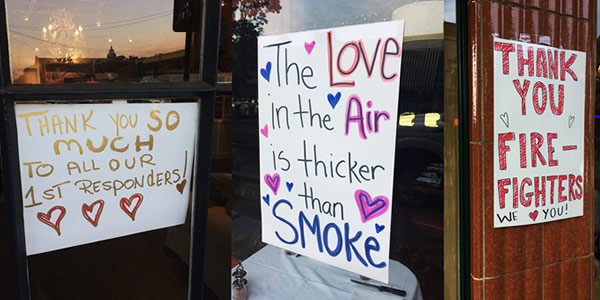 Who could have predicted the Napa Valley would be front page news at Halloween-time all around the world…for such a terrible reason?
So many angles of the fires caught the attention of so many media outlets. Human interest, tragedy, heroism, nature, business, animals, agriculture, smoke taint, toxic clean-up, science—how many more facets of a subject could there be?
As someone who lived through a 'soft evac' and now, experiencing the fragility of our community, I've felt like a shell-shocked bystander as the 'marketing of the misery' has begun.
The fires are out. Enormous numbers of people have been impacted. Vineyards and wineries are still assessing what it all means. Any business in the tourism sector is hurting. The media are still checking back…still showing dramatic and not-always-accurate images of the aftermath of the fires.
So now what? It's inevitable that this enormous and life-changing—indeed, world-changing—event would now shape marketing and publicity in the wine business.
STICKY
As a marketer, this may well be the toughest business climate you will ever face. Pretend everything's back to normal? Try to educate your audience about smoke taint? Tout how uniquely philanthropic your winery is? It's all very sticky and icky: please move very, very carefully.
Let's keep in mind what we're trying to do. It's a balancing act: how do you communicate that the disaster was not as disastrous as portrayed? 99% of businesses are open and eager to welcome customers. How do you respect those who have lived this tragedy personally and professionally, who need assistance? How do you acknowledge the almost undescribable heroism and super-human expertise of firefighters and first responders? How do we do something to balance these needs, to get the word out and be comfortable with how we're doing that?
CRISIS PR
"Crisis" public relations is a very, very specific discipline. What's the best hash tag? #NapaValleySpirit or #NapaStrong? #SonomaPride, #SonomaStrong, #SonomaCounty, #FrontierCulture? Do you issue a press release detailing exactly how your winery has been impacted? Is there a banner on your website home page proclaiming that you're open for business, come on by?
Of course wineries have reached out to their mailing lists to share their stories, reassure, encourage purchasing and often link to one of the many charities. Some wineries are also offering various percentages 'off' of purchasing, where those monies will go to the fire relief funds.
Makes you wince, right? is it 100%? Is it 10%? What's too little or too much? What's newsworthy? Some wineries are starting their own relief funds, not content to be part of the collective impulse for good.
What's the most attention-getting donation a winery can make? One vintner got a few minutes of fame post-fire by announcing he'd match donations from a professional athlete. Where does the generosity of the philanthropy cross into the grey area of how are the funds distributed? Who is 'more' worthy to receive financial assistance? Who determines that? How can transparency be built in from the outset to insure that there are no ugly headlines a month or two down the road…? What about the danger of fund-raising being a spotlight for the fundraising entity vs. the recipients?
HOW DO YOU DO WHAT….
One winery ran ads in a local paper thanking firefighters and listed the towns from near and far who sent engines.
Events! Who better than the wine and tourism industries to organize lots of eat-and-drink fundraisers?
Breweries are doing fire-related labels for new beer blends; there was a raffle offering tickets to cut the line when a popular beer is released.
Videos! Lots of businesses, whether inns or wineries are telling their story with video. Regions are doing it; online retailers as well.
Sommeliers have banded together to put on fundraisers. Publicists have launched specific GoFundMe programs.
Bottom line, this tragic experience illustrates an axiom of the communications world: bad news is more newsworthy than good news. Lots of news outlets are maintaining lists of how to help but the road back to normalcy is unpredictable.
Of course there are marvelous exceptions to the click bait of the bad news drumroll, such as the heroism of Safari West's owner, who saved all the animals but lost his house.
And thankfully there have been intrepid journalists doing their best to alert all of us to the latest developments—best exemplified by Sarah Stierch in Sonoma.
Anecdotally, tourist kiosks at SFO are steering people away from Napa, saying 'it's all burned up.' Also anecdotally, tourism is unexpectedly up in areas in the Northwest, where the visitors are commenting that they'd intended to be traveling to northern California's wine regions.
THE RIGHT TONE
Lots of questions. Take time to find the answers which are the best fit for your situation. Make sure you're finding the right tone, the right delivery vehicle, framing your communications with the utmost sensitivity.