IS "GREAT" WINE NOT ENOUGH?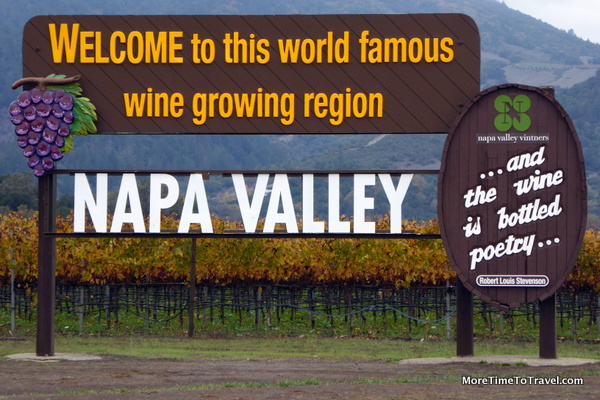 Is visitation to wineries up or down in the Napa Valley? Are sales in Napa Valley tasting rooms up or down? The answers vary depending whom you talk to…..but what's certainly very "up" and visible are the enormous efforts Napa Valley wineries are taking to entice visitors.
There are a ton of elaborate food experiences being offered. Charcuterie with your wine? Cookies paired with your wine? Bacon paired with your tasting? Caviar? Vegetarian? Lots of cheeses? Prime rib and Yorkshire pudding? It's all out there!
Several wineries offer variations on the 'winemaker for a day' experience—one with a silver robe as part of the experience.
Want to ride through the vineyards in an unusual vehicle, such as a Pinzgauer? Easy. How about renting a bike at the winery to ride through their vineyards? Done.
Here's a pop quiz: are these Napa Valley tasting room options true or false? You'll find the answers at the end.
A winery on a remote mountain offers an early morning hike & tasting so you can watch the fog roll away.
A caviar bump! A 'caviar girl' with gear strapped to her waist offers you 'bumps' of caviar at this winery.
Silent discoing in a redwood grove on the winery property.
A yoga class in the middle of the vineyards.
A biofeedback session amongst the barrels.
Watch a falcon be released to hunt pesky birds, while you sip your wines and munch a picnic.
Pet a horse while you stroll through a stable which adjoins the winery tasting room.
Play golf on a putting green in the middle of a winery's pond.
This winery offers a flight of its wines paired with music, piped in to your headphones while you taste.
Taste this winery's wines in the dark.
Before you begin your tasting, this winery will administer a 'super-taster' test to your tongue. That will assist you in choosing what wines to taste, perhaps explain why you prefer sweeter wines, etc.
Behold the winery's enormous gardens….behold the winery's own livestock…one visit enables you to milk a cow (or goat if you prefer) and start the cheese-making process. Within a few weeks after you leave the cheese you started making will arrive at your front door.
If you're a club member at this winery, you had your hand biometrically scanned….now you can go into the winery's cave and the scan of your hand will open a door to an unusual room with a raised platform surrounded by glass and illuminated by a crystal chandelier—just right for you and your ten best friends for a splendid tasting.
You've had a wonderful—and enormous—tasting. Before you go, the winery offers you a breathalyzer test.
What a great winery! If only you could come back and visit during harvest, during bottling, during pruning, so you could see the winery's fabulous vineyards in all seasons. This winery, thanks to a partnership with a scientist, offers a time travel coupon: that will enable you to teleport back whenever you wish.
Let's discuss.
As a marketer, trying to think creatively and (pardon the cliché) in an "out of the box" fashion is important right now. The Napa Valley wine industry is going through a super-competitive moment. Clever and memorable and even outlandish marketing programs may just land your winery a following in the demographic you're seeking. Or not. But it's worthwhile to look around and see what's taking place….
Let's talk to a banker and keen industry observer: "Are sales up or down? On average they are up, but averages aren't always the best measure," commented Rob McMillan, EVP & Founder of Silicon Valley Bank's Wine Division when we discussed this topic. He continued: "We aren't selling chemicals in a bottle. We are selling a dream and an experience. And we need to find ways to refresh our sales and marketing approaches," he suggests.
Another industry expert, Paul Mabray, the CEO of Emetry, shared his insight about the "arms race" of winery experiences. "The competition over winery experiences is going to continue to escalate to attract and retain customers. Being brand true will be one of the ways that these experiences will be sustainable. For example, you don't have to compete with Castello di Amorosa or The Prisoner if your experience is brand true. However, adding experiences is a core tenet of increasing value and participating in the experience economy," he said.
Mabray continues: "The absurdity is that we associate the need/want for experiences solely with Millennials. As a point of reference, don't you like experiences? I know I do. Finally, the continued emergence of experiences is a by-product of increased competition, decreased routes to market and the flattening of wine sales. Moreover, to unlock value to people who are marginally or partially interested in wine but are visiting the winery, it's good practice to enhance their visit and create brand loyalty. Not every visitor to our region is an oenophile."
Now let me recap comments from several vintners—all of whom have several decades of Napa Valley winery management behind them.
Vintner A said: "This is a larger issue. Are all of these elaborate come-to-our-winery ideas a good thing? Does it synchronize with whatever "fine wine" is today? Is this the result of the Napa Valley Wine Auction's morphing from focusing on Napa Valley wine to an international lifestyle glamour parade? Is this wave of super-creative visit enticements a threat to Napa Valley wineries who focus solely on producing great wines?
Vintner B offers: "All of these diverse non-wine-based events are feeding into the anti-winery sentiment of local activists who accuse us of being "event centers" and not wineries. All of this seems to say that wine is no longer the most important thing: that winery marketing depends on corollary entertainment, not "just" wine.  This direction is absolutely going to divide the wine industry. It's making it harder for small wineries to compete successfully, since they don't have the resources of the wineries with elegant architecture and large marketing departments."
Vintner C chimes in: "Is great wine no longer enough? Is it a new world now? All I do is make great wine from a great place—will I survive?"
Circling back to the "35,000 foot view," another perspective says that we have to come to terms with these issues as an industry. By focusing only on wines—and not including remarkable experiences—are we excluding too many possible customers? Jane Doe comes to Winery X and has a fabulous time, enjoying wonderful curated bites of food along with a great Cabernet—is it the "extraneous" activity which makes the experience memorable, more than the Cab?
"As we see the industry and consumption shrinking, we're hitting a crossroad," Paul Mabray says. "If we put our nose in the air about wineries offering experiences, fewer people may care about us. Remember that wine is a complex product; it's hard to understand. We may be failing our consumers in a big way if we don't make sure that they enjoy our product. If Napa Valley is to sustain itself as an attraction, our job is to increase our value to customers and adding experiences is an obvious part of the marketing tool kit," he said.
If we follow this line of thought, people visiting wineries may not want to hear about the intricacies of terroir or barrel aging; they may just want to have a great glass of wine and go home talking about that delicious caviar bump, the Pinzgauer ride through the vineyards, or the ….?
Lots to chew on, what do you think?
Answers to the quiz:
True
True
True
True
False
True
True
True
True
True
False
False
True
False
False